You are here
ITALIAN VANITY ART EXHIBITION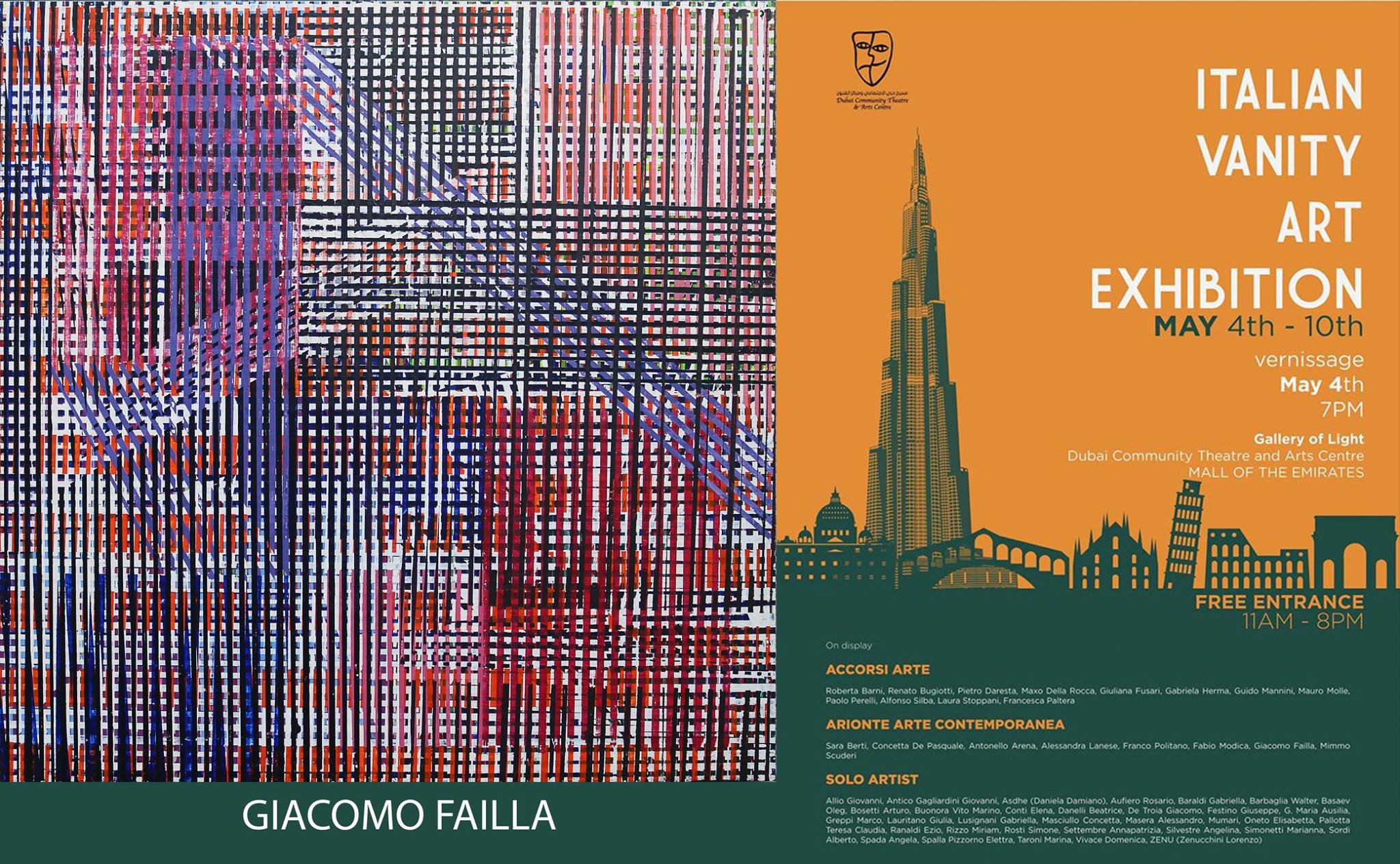 ITALIAN VANITY ART EXHIBITION
The Gallery of Light, Dubai Community Theatre and Arts Centre, Mall of the Emirates
May 4th - 10th, 2017
The aim of this exhibition is to promote the Italian Visual Art and young Italian artists in Dubai, with special focus on their approach to Contemporary Art. This exhibition covers a variety of visual art mediums, including painting, sculpture, photography, and installation art.
Italian  Vanity Art  Exhibition  will  be  inaugurated  on May 4th, 2017 at  7PM in the Gallery of Light, Dubai Community Theatre and Arts Centre (DUCTAC), Mall of the Emirates, in the presence of Vice President of Italian Industry & Commerce in Dubai, Mr. Piero Ricotti and Mr. Mauro Marzocchi.
The exhibition will continue until May 10th with the following schedule:
May 5th:  2PM – 8PM
May 6th - 10th: 11AM – 8PM
Visitors will be welcomed by the English and Italian speaking hostess. 
 The admission is free.
On display:
ACCORSI ART GALLERY
Roberta Barni, Renato Bugiotti, Pietro Daresta, Maxo Della Rocca, Giuliana Fusari, Gabriela Herma, Guido Mannini, Mauro Molle, Paolo Perelli, Alfonso Silba, Laura Stoppani.
ARIONTE ART GALLERY
Sara Berti, Concetta De Pasquale, Antonello Arena, Alessandra Lanese, Franco Politano, Fabio Modica, Giacomo Failla, Mimmo Scuderi.
SOLO ARTIST
Allio Giovanni, Antico Giovanni Gagliardini, Asdhe (Daniela Damiano), Aufiero Rosario, Baraldi Gabriella, Barbaglia Walter, Basaev Oleg, Bosetti Arturo, Buonora Vito Marino, Conti Elena,  Danelli Beatrice, De Troia Giacomo, Festino Giuseppe, G. Maria Ausilia, Greppi Marco, Giulia Lauritano, Lusignani Gabriella, Masciullo Concetta, Masera Alessandro, Mumari, Oneto  Elisabetta, Pallotta Teresa Claudia, Ranaldi Ezio, Rizzo Miriam, Rosti Simone, Settembre Annapatrizia, Silvestre Angelina, Simonetti Marianna, Sordi Alberto, Spada Angela, Spalla Pizzorno Elettra, Taroni Marina, Vivace Domenica, ZENU (Zenucchini Lorenzo)
Gina Affinito | art curator Mariano Cervone - graphic design Karmen Audino - press officer Dubai
Dora Di Nunno - photography Raffaella Mascolo - Hostess Desiet Tewolde - logistic and ship